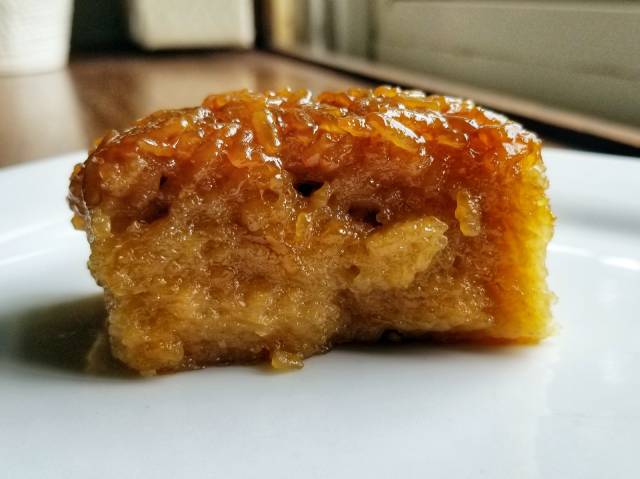 Biko – Filipino Rice Dessert
I know it has been a while since I last posted, and my apologies. I am still cooking and keeping busy but writing about something that I have made, at least in the kitchen, recently has not been there. Up until now that is. I have been very interested lately in Filipino cuisine. There is something mysterious about their cuisine that I have yet to get my finger on. I've read a few cookbooks from various authors and it seems that most of the recipes include some standard ingredients whether that be vinegar or some vegetable that I am not typically used to when cooking. That is becoming the excitement in my continued research in Filipino cuisine. Currently I am looking at the ingredients at making halo halo, a Filipino dessert. The ingredients blow my mind. Beans, jellies, ice, and plenty more. It just sounds like a party going on. So I'm sure in the weeks to come I will be posting a bit more on Filipino cuisine.
Biko. What the heck is biko? First off I love saying biko. Lastly it is one of these desserts that may just blow your mind. I'm calling it the rice krispie treat of the Philippines, but with a slight twist. The texture is something we Americans may not be used to but once you quickly get past that it just blows your mind in thinking, as I have always thought with Filipino cuisine, 'what the heck is this?'.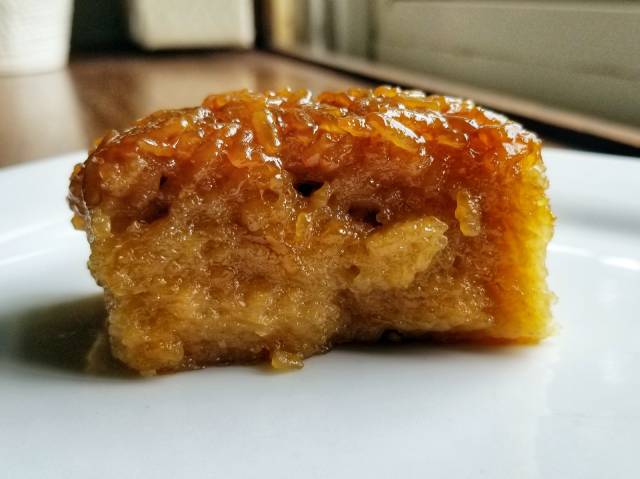 Although the recipe is extremely easy to make, there is a type of rice that you will need. It's a Thai style sweet rice, commonly referred to as sticky rice. You can find this in various sizes at your local Asian market.
The sweet rice is different than most rices as it is shorter glutinous grain and has a very solid milk like color, and is pretty starchy. I cook a lot with this type of rice when making things like larb, and one thing you always do is soak the rice overnight. It's somewhat mandatory, and in this case it goes the same. So you will really one need to plan ahead for this sweet rice dessert. The waiting will pay off, trust me.
Ingredients:
4 cups Thai sticky rice (glutinous rice), soaked overnight
3 14 oz cans of coconut milk, reserve 3/4 cup
2 1/2 cups of dark brown sugar, reserve 1 cup
1 1/2 cups of water
generous pinch of salt
1 tbsp unsalted butter
Soak your rice overnight in a large bowl, covering with a couple of inches of water.
When you are ready the following day, start by straining your rice. Once the water is strained rinse it well with more water, then let that water strain.
To a large pot on the stove, turn it on medium heat. Add in the cans of coconut milk, making sure to reserve the 3/4 cup. Add in the water and give a good stir. Once this comes to a simmer, add in the strained rice. Stir with a wooden spoon, almost stirring as you would with a risotto, and just keep an eye on it as to not burn it. Stirring is important.
After 8 minutes the rice should be soaking up much of the liquid. Stirring is important, remember? Keep stirring. Reduce the heat to low, add in the 1 1/2 cups of dark brown sugar, as well as the salt, and continue to stir for about another 5 minutes.
Preheat your oven to 350 degrees.
While the rice cooks, butter a casserole dish. Mine is about 9×13.
Now it's time to make the sauce. To a sauce pan add the reserved sugar and milk, and cook on medium-high heat until it comes to a boil, stirring as well. You want the sauce to thicken a bit, only about 3 minutes or so. Remove from the heat.
Pour the rice into the casserole dish and gently form into the dish. Pour the caramel sauce all over the top and ensure it covers the top.
Place into the oven and cook for about 50 minutes. The top should be nice and bubbly.
Carefully remove from the oven and let this cool for about 30 minutes. Trust me it will still be really hot so be careful when biting into it. Slice these into squares and serve warm (preferred) or at room temperature. Make sure to store leftovers in a sealed container in the refrigerator. This should last a few days but trust me it won't last that long.
The result is almost like a formed warm sweet porridge. It's a bit difficult to explain. It's a bit sticky, it's sweet, and it is so darn addictive that I walked away feeling guilty that I ate that much, especially from a dessert that had a texture that I thought I would not get into. I'm glad I was proved wrong.
So this is not only a great dessert, but it's a simple one and gets a new rice into your house. This leads you to the next recipe of making those fabulous larb salads. Have you had biko? What are your thoughts?