Shishito Pepper Cream Sauce
We have been in transition from Summer to Winter here in Wisconsin. I'm not entirely certain where Fall is, or went but it doesn't feel like I personally got enough of it. Maybe it was a lack of nature hikes due to strange weather, or not going apple picking, but something just wasn't right. Regardless, I guess I will chalk it up to what most people would blame a missing season on in 2020…. covid.
There are things however that reminded me Winter was approaching, and that was the yard cleanup (turning off hoses and water, purging the garden, and overall cleanup). I was thinking about the produce we were blessed with this year, and the abundance. One thing was for sure… we had plenty of shishito peppers. So many that I decided to come up with a reduction, if you will, of a lot of shishito peppers and turning them into a cream sauce for pizzas.
Let's get started.
Ingredients:
30 shishito peppers, stems removed
2 tbsp olive oil
1 medium onion, diced
4 cloves of garlic, diced
2 cups of heavy cream
Salt, to taste
Black pepper, to taste
1/2 cup grated parmesan cheese
Strainer
Pizza dough and pizza toppings, optional
Start by heating a large saucepan on medium heat.
Add in the olive oil and give it a nice swirl. Next add in the onion and garlic and give that a good stir. Cook this mixture on medium heat for up to 10 minutes. You'll want to fully sweat the onions while not burning the garlic.
During this time chop all of the shishito peppers. A rough chop will suffice.
Add all of those shishito peppers, seeds and all, excluding the stems, into the pot. Give this another good stir reduce the heat to low and continue to cook on low heat for about 30 to 45 minutes. The sauce will thicken along the way.
As the sauce thickens, either use a hand mixer or pour into a blender and blend until you have a smooth sauce.
I take this mixture and run it through a strainer to remove any chunks. It's kind of a tedious task but you end up with a smooth sauce.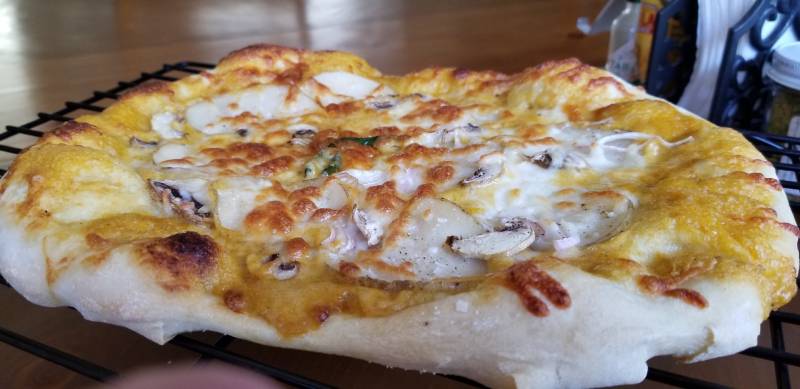 Discard any of the solids. Now you have a pretty awesome shishito cream sauce that you can use for pastas or pizzas!
Taste the cream sauce and season with any salt or pepper. Add in the parmesan cheese and give a stir.
If you're using the cream sauce for a pizza, add it like any other sauce and add it to the base of the pizza and cook accordingly.
What you are left with is an awesome cream sauce. This is not an alfredo sauce, but a cream sauce that just has this perfect hint of heat from those shishito peppers. It's a great creamy heat that goes perfectly with pizza.
To be honest with you I wish I would have made a double batch so I could have made a shishito pepper mac and cheese for my kids. Oh well, something to look forward to next year. Hope you enjoy!