My wife and I love enchiladas. We consider it somewhat like the Mexican lasagna. Instead of noodles you have fresh corn tortillas, however you still have the cheese, the sauce, and the meat filling. My standard enchilada, or enchilada rojo (I will call it that because of the red sauce) is really good, and is typically stuffed with shredded chicken, onion, cheese, and more. This time around, I was not going down the route of the enchilada rojo, but that of the enchilada verde. This enchilada is topped with my salsa verde, and is a must make for a different take on the enchilada. Let's just say it was quiet at the table last night, which always means that the comfort was there. Let's get it started.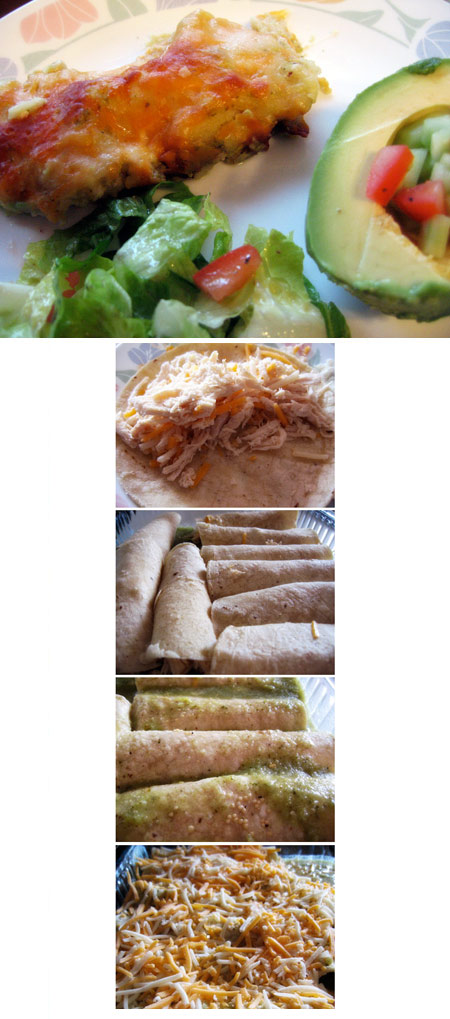 Ingredients:
3 skinless, boneless chicken breasts, boiled in water, then shredded (reserve 1/4 cup of chicken water)
Package of fresh corn tortillas
Salsa Verde (make ahead of time), add in the reserved chicken water
Monterrey Jack Cheese, shredded
Begin by boiling the chicken breasts. Depending on the size, this will only take about 20 minutes or so. As the chicken is cooking, skim any of the foam from the water and remove. Reserve about a 1/4 cup of the chicken water after the chicken has completely cooked. Remove the chicken and let cool for a few minutes. Shred the chicken with two forks and place in a large boil. Add in about 1 cup of the shredded cheese.
Preheat your oven to 350 degrees.
To your baking dish, add about a cup of the salsa verde sauce. Microwave the tortillas for about a minute until they are soft. You can also go the authentic route and heat up vegetable oil, and give the tortillas a quick oil bath (I do this for the enchiladas rojos).
Take a heaping spoonful of the chicken and cheese mixture and add to the tortilla. Roll and fold and place seam side down in the pan. Continue this process with all of the tortillas and chicken mixture. Cover the top of the tortillas with the salsa verde. Cover with the cheese.
Cook in the 350 degree oven for roghly 40 minutes until the sauce is nice an bubbly and the cheese is completely melted. Let stand for about five minutes to let everything settle. Serve with avocado and a nice green salad.
How do you prefer your enchiladas?