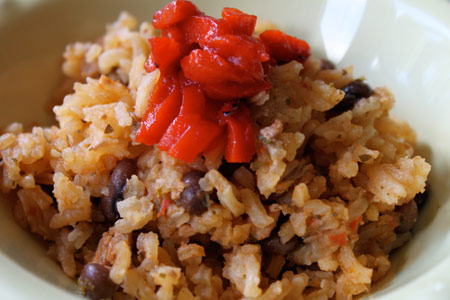 Arroz con Gandules – Puerto Rican Rice
You have heard it been called Puerto Rican rice, but the real name is arroz con gandules. I had friends talk about this dish for years as being probably one of the best rice dishes out there, and they could possibly be right about that. After our most recent vacation to the Jersey shore, we met the nanny of our cousins, Mary. Mary was everything and more. Watching four, energetic kids throughout a long work day, Mary had a way about her. Strong, funny, and a voice that you could hear across the room. Her New York accent exposed a bit of the Latino tongue as well, and so I said one morning, 'You Puerto Rican?'.  She looked a bit surprised by that fact that I knew, however I worked with plenty of Puerto Ricans at one of my previous employers, Homeboyz Interactive.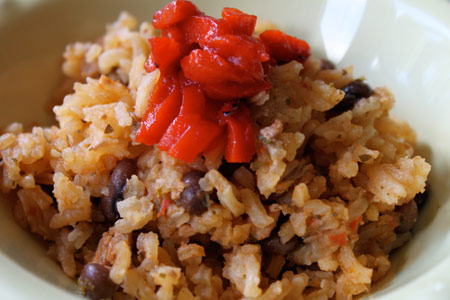 My first question after that, was of course, 'you got any good recipes?', 'you know how to make Puerto Rican rice?'. Mary kind of giggled, and said, 'Oh sure, I do'. I got excited. On our last day in Spring Lake, New Jersey, Mary handed me a piece of paper, and on it containing her version of arroz con gandules. I kept that paper close by in my bag, and shortly after returning home, studied it, and twisted it a bit to make it my own.  This is truly a wonderful dish, and comforting in more ways than one. It makes a family style portion, and was eaten for several days, back-to-back, as it was really that great.
Ingredients:
2 tbsp of olive oil
1/2 cup of sofrito (recipe below)
slow cooked pork, chopped (optional), or use chopped ham
1 packet of Sazon (con culantro y achiote (coriander and annatto))
15 oz can of Gandules (Pigeon Peas), with liquid
2 cups uncooked rice
4 cups of chicken stock, or water
salt to taste
Roasted red pepper for garnish (optional)
In a large pot, heat the oil on medium heat. Once heated, add the sofrito, and cook for about a minute or two. Add in your sazon packet, water, rice, and gandules, and mix well. Bring this mixture to a boil, then cover, and reduce the heat to a simmer. Let this cook for about 40 minutes, checking around 35 minutes. NEVER LIFT THE LID before 35 minutes. Before serving, stir the rice. It should not be burned on the bottom, and it should be nice and fluffy.  Serve with chopped roasted red bell peppers on the top.
Sofrito Ingredients:
1 red bell pepper, seeded and chopped
2 green bell peppers, seeded and chopped
2 tomatoes, chopped
1 head of garlic, peeled
handful of flat leaf parsley
handful of cilantro
2 onions, chopped
Toss everything into a food processor and chop down into a nice sauce. You can use sofrito in most anything, trust me, this is a real winner!