Cheese and Herb Stuffed Rolls
I am so fortunate that my mom turned me onto pepperoni rolls, and I still admit that they could possibly be one of my all time favorite snacks. There is one thing about those rolls, and that is the bread. The rising, smell, and texture of these rolls are just excellent, and yes, they can be bought from your frozen section for nearly three dollars. Three dollars for 30 some plus rolls, you just cannot go wrong.  The rolls are called Rhodes Dinner Rolls, and are worth every penny.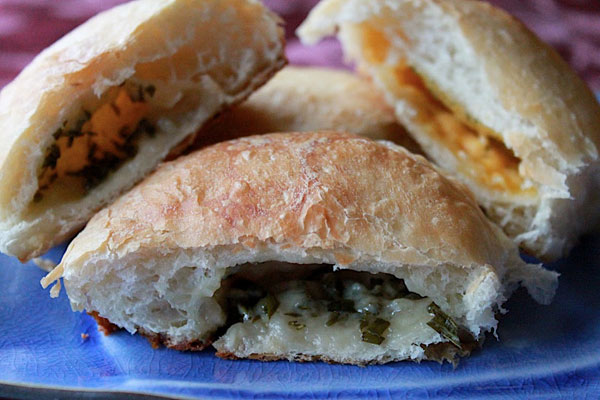 Lately I have been thinking cheese, and blue cheese at that, and pairing good cheeses with good herbs. I first thought of making some sauce, or fondue for that matter, but then those rolls hit me. What if stuffed those rolls, like I did with pepperoni and mozzarella cheese, with cheese and herbs? Heck, it was worth the shot, and worth trying out a nice pairing in a different way.
Ingredients:
Rhodes dinner rolls, as many as you want to make
Blue Cheese; gorgonzola, maytag, or your favorite blue
Sharp Cheddar cheese
Fresh dill, finely chopped
Fresh Rosemary, finely chopped
Begin by following your Rhodes dinner rolls recipe. Basically, lightly grease a baking sheet, add your rolls, cover, and let them rise in a warm area for nearly 4-6 hours. Nearing the end of the rising period, I begin to pair my cheeses and herbs. This time I went with a blue cheese and rosemary, and a cheddar and dill. Once risen, take a roll, and take your thumb to make a nice imprint in the roll. Add in some blue cheese, about a tablespoon, and about a 1/2 teaspoon of the chopped rosemary. Fold over and seal, placing seal side down. Do this to as many rolls as you would like. Do the same process with the cheddar and dill mixture.  Cover with a towel, and place these back in your warm place to let rise, approximately one more hour.
When you are ready to bake them, preheat your oven to 350 degrees. Remove the towel from the rolls, and place in the oven for nearly 25 minutes, or until a nice golden brown. Remove from the oven and let them cool for a few minutes before digging in. The cool thing about these types of rolls is that they look like a normal dinner roll, but biting into them has an nice explosion of flavor. My kids loved the cheddar and dill one, while I loved the blue cheese and rosemary.
The possibilities are endless. How would you stuff yours? I am interested to know.