Chipotle and Orange Pork Tacos
Growing up as a kid, one of my favorite meals was fried chicken, box mashed potatoes, and corn. This could still be one of my top five favorite meals of all time, however, I do not know the last time I had boxed mashed potatoes. Over the course of the past twelve years or so, there has been a serious competitor to the fried chicken meal, and that is the taco.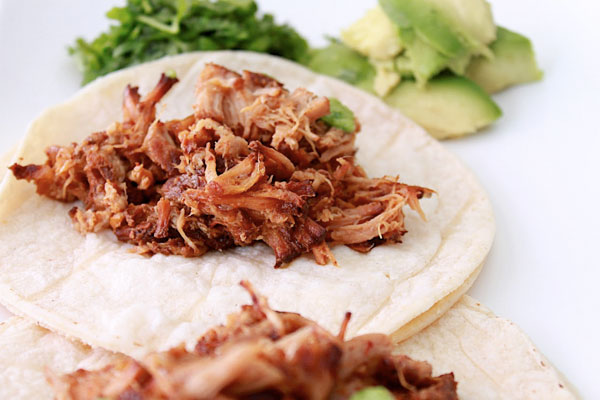 Growing up, and in my young adulthood, the taco typically represented the yellow corn tortilla hard shells that you typically buy at the local grocery store, stuffed with ground meat that was seasoned by the taco seasoning packet, and topped with shredded lettuce, chopped tomatoes, and shredded cheddar cheese. For the most part, that is ok, and better yet, it is what my kids enjoy. After living in Dallas, and then when moving back to Milwaukee, I really began to experience what a really good taco was, and it had nothing to do with a hard shell, or shredded lettuce. Granted, those toppings are fine, and the beauty about a taco is that you can build it any way you desire. Almost like a pizza. Toppings are endless, and the crust can be thick, thin, or deep dish.
Over the years, my favorite tacos have been made with pork, and I "think" my all-time favorite is the tacos al pastor.  As I try to please the masses, my wife thinks the tacos al pastor is just a bit spicy for her buds, so I have made other pork tacos for her and others, including some delicious carnitas, pork tinga, as well as a variety of chicken, or beef tacos.
This past week my wife had said to me, "You should really make them pork tacos!", and I was curious which ones she was referring to. When I asked her if they were the ones marinated in orange juice, or the ones cooked with the potatoes? She said "those really yummy ones you made for Mark's house when Fran and Melissa were in town".  She was referring to the tinga. As I had already made those not too long ago, what I wanted to come up with something different. Something on the same textures of the tinga, that had the fall apart texture when you poked it with a fork, but also one on the same lines of the carnitas, but one with just a slight bit of heat to accommodate my needs as well. Welcome, the chipotle and orange marinaded pork.
Ingredients:
2 1/2 lbs of pork shoulder, cut into large chunks
1 package of Sazon con Culantro y Achiote (coriander and Annatto)
3 tbsp olive oil
2 large oranges, zested and juiced
3 cloves of garlic, skin removed, smashed
3 canned chipotle peppers, chopped
4 tbsp of the chipotle adobo sauce
Slow Cooker
1 avocado, sliced
Small handful of cilantro, chopped
Red onion, diced (optional)
corn tortillas, warmed
Begin by sprinkling the sazon all over the pork shoulder chunks. To a large skillet, add the oil and bring to a medium to high heat. Add the pork, in batches, and brown each side. During this time, bring out the slow cooker. You can do this with your dutch oven, or another large pot if you want to keep it on the stove all day, however, I love my slow cooker, and can be assured that when I place pieces of pork in there, and come back hours later, that I am guaranteed the fall apart, fork tender pork. Zest the oranges and place in the bottom of the slow cooker, along with the juice from both oranges. When the pork is browned, add them to the slow cooker. Top with the pieces of smashed garlic, the chopped chipotle peppers, and the adobo sauce. Place on low, cover, and forget about it for at least 6 hours. I let mine go at least 10-12 hours, which is perfect if you prep the night before, and let it cook while you go to work.
Get some tongs or two forks, and begin shredding apart the pork, within the slow cooker. You will see just how tender this is, and it really builds excitement when the pork just falls apart.
Now here is the deal, you can place these on your warm tortillas at this stage, or if you are like me, take a small batch of the shredded pork, and add it to a skillet that has been warmed on medium heat, and build a little bit of crisp on the strands of pork. I like doing this as it adds just the right texture to the pork.
When you are ready to serve, add as much pork as you want to two corn tortillas, yes, two of them. That is how corn tortilla style tacos should be made, in my opinion. Add a bit of cilantro to the top, a bit of avocado, and some chopped onion. Fold and enjoy. The orange citrus note, and a bit of spice really made this taco fantastic and was well liked. So much that tacos, nachos, and burritos were made out of this delicious slow cooked pork for the next several days. Enjoy.