Blue Cheese, Bacon, and Potato Casserole
I am a big fan of casseroles, especially the really easy ones. You know the type. Perform a bit of layering, a bit of sauce, and pop it in the oven for a while, and you have yourself a great casserole. So this past weekend, I smoked some baby back ribs, and finished them off with some homemade barbecue sauce on the grill. They were amazing to say the least. I wanted something different to go with the ribs, and at first I thought of the classics like coleslaw, or baked beans, but I wanted to double up on the pork, and immediately thought of doing something with bacon. This is when I came up with an idea for a bacon and blue cheese potato casserole, and the best part, I used ramekins for the serving dishes.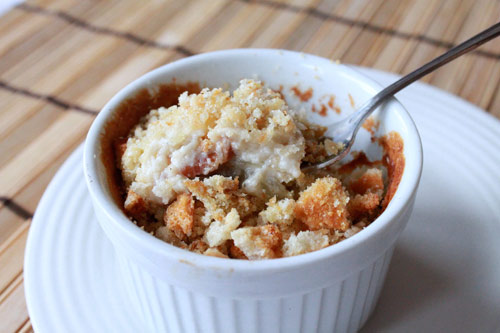 Ingredients:
6 yukon gold potatoes, cleaned, skin on, sliced into 1/8 inch slices
4 tbsp unsalted butter
1/2 tsp salt
1/4 tsp cracked black pepper
6 tbsp of all purpose flour
1/2 tsp onion powder
1/4 tsp garlic powder
1 cup of crumbled blue cheese
8 slices of thick cut, bacon, cooked, and chopped
1/2 cup of diced red onion
2 3/4 cups of milk
cooking spray
1 1/2 cup, or more, of your favorite breadcrumbs (I normally make my own using old bread)
So the only labor intensive part of this dish is thinly slicing the potatoes. If you have a mandolin, this would be a good time to use it, but remember, go thin. When you are all done, preheat your oven to 375 degrees.
If you have ramekins, use them for this, as they not only make a great presentation at the table, but they also allow you to get some portion control down! If not, go with your standard casserole dish. Use the cooking spray and lightly spray each ramekin, eight in my case, or your casserole dish.
You already cooked your bacon, right? Good.
Next, get your sauce pan out, and on medium heat, melt the butter. Once everything is melted, add in the flour and begin to whisk. Continue to whisk as you add in all of your seasonings. Have your milk ready and pour that in, continuing to whisk. You are making a cheese sauce, yes you are! Continue to whisk. Add in the blue cheese, and continue whisking. And yes, you are getting a nice little workout at the same time. After about 6-8 minutes you will notice the sauce come together. The cheese will have melted and incorporated into the sauce, and it will begin to thicken. This is exactly what you want. Turn off the heat, and move the sauce pan to another location on your stove.
Now is the time to make the casserole. Take your potato slices and layer them in your ramekins, or your dish, leaving enough room near the top for bacon, onion, and breadcrumbs, about an inch. Midway through your layering, add a bit of the chopped bacon and red onion, and top with remaining potatoes. Add a bit more bacon and onion. Repeat this process on each ramekin. Pour the sauce over the top, tapping, or lightly shaking the dish to make sure the sauce gets into all areas. Cover with aluminum foil.
Place on a baking sheet, and put it in the oven for 45 minutes. Carefully remove the sheet from the oven, and take off the foil. Place a layer of breadcrumbs on the top, place back in the oven, and cook until the breadcrumbs are nice and toasty, about 12-15 minutes.
Remove from the oven, and carefully place on your serving plate. Just keep in mind that if you are using the ramekins to remind your guests that they are hot, and to be careful, otherwise, let them cool for about 5-10 minutes before serving. It's difficult to wait for these, and for obvious reasons.
Bacon, blue cheese, and potatoes, cooked with a breadcrumb topping is going to put you in comfort land, at least it did for us. Soft and delicious potatoes with a nice crunch, just screams with all of the right flavors and textures. Enjoy.