I could live off of quesadillas. This appetizer or entree is yet another item that has endless possibilities. The quesadilla is a true delight and one of those things that if you have corn or flour tortillas laying around, or if you want to make your own, you are pretty much good to go with creativity.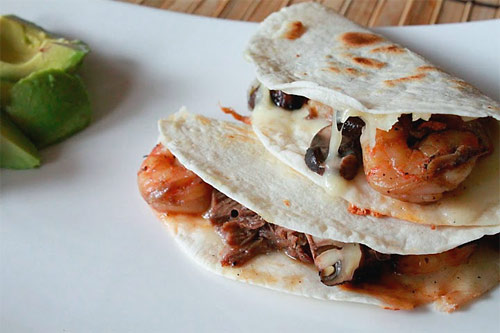 I love the quesadilla for this. Simple cheese for the kids, heck, throw in some smoked ham for a ham and cheese, bacon and egg for breakfast, steak and shrimp for dinner, fish, chicken and arugula… you see where I am heading right? The possibilities are endless. This is what I love.
My latest creation was a surf and turf quesadilla. It was yummy, full of flavor, and kept calling you back for more. A perfect use of leftovers as well. Keep in mind that my heart if with corn tortillas. They are my go to tortilla for tacos and enchiladas, but not for the quesadilla. My heart is with the flour tortilla however when it comes to quesadillas and fajitas.
Let's get started.
Ingredients:
flour tortillas, they must be able to lay flat in your skillet
shredded jack cheese, about 1/2 cup or more per quesadilla
left overs, (I used kebabs made of beef tenderloin, shrimp, and portabella mushrooms from the night before)
Avocado, sliced
I love making quesadillas, probably because it is a prime opportunity to bring out one of my cast iron skillets. Typically you would lightly oil your skillet pan, but there is something I really like about having the cast iron skillet do all of the cooking of the tortilla. It brings about a smokier flavor, if you will. It is up to you, however, if you want to lightly lube up your skillet.

Bring the skillet to a medium heat.  Lay a flour tortilla on the bottom. Layer the cheese on the bottom, then top one half of the quesadilla, with some of the beef, shrimp, and sliced portabella mushrooms. Continue to cook on medium heat until the cheese is melted. Fold half of the tortilla over, and turn the heat to low. Cook for a minute or two, then flip it on the other side, and cook for another minute or two.
Repeat with however many quesadillas you want to provide. Keep in mind that you make these ahead of time, and warm them in the oven on low heat, if you are planning ahead for a party.
One thing is certain, the cheese is awesome. You put the killer flavors of shrimp and beef together, and you have a home run hitter here.
Question for you, what is your favorite style of quesadilla?