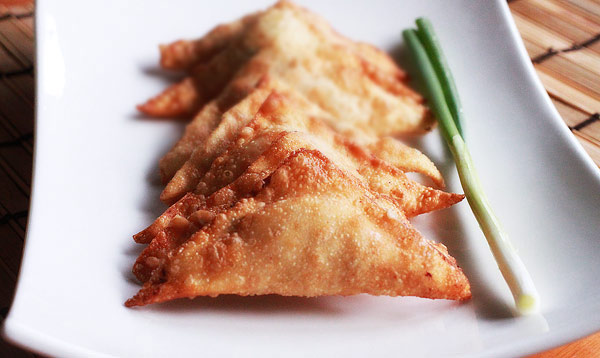 Many of you have probably had crab rangoon at your local American Chinese restaurant. I place and emphasis on the word American as many Chinese restaurants probably would never include these on their menu. However, us Americans found comfort when we did see them on a menu, and have frequently ordered them upon most any visit to a Chinese restaurant here in the states. You can tell why so many of us fall in love with the rangoon. For one, they are fried, and probably more importantly, there is a surprise in the pillow shaped wonton wrapper.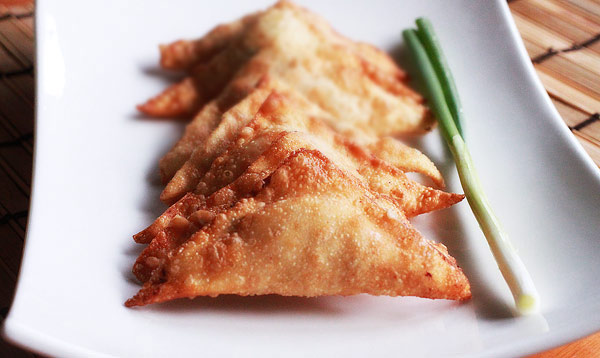 You see, I fell in love with the crab rangoon when I moved back to Wisconsin, and one of the first restaurants my wife and I ate at, after we pulled in with the big moving truck, was an American Chinese restaurant that served these deliciously hot bundles of joy.
So instead of making the classic crab rangoon, I thought I would replace the crab and make it a bit more accessible by making a wonderful tasting shrimp rangoon. Not only does it cost less to make, but it also tastes just a good, if not better, than a crab rangoon.
Let's get started:
Ingredients:
1 lb of raw shrimp, peeled and deveined
1/2 cup of green onion, thinly sliced
1 tsp soy sauce
1 tsp worcestershire sauce
1 tsp cracked black pepper
8 oz Philadelphia Cream Cheese, room temperature
Wonton wrappers
Small bowl of water
Canola Oil, approximately 3 cups
Bowl of ice water
Begin by boiling some water, and once boiled, add a generous pinch of salt, and toss in the your shrimp. I realize you can buy precooked shrimp, but something about buying precooked shrimp has always bothered me. Not sure why, but if you want to take the precooked route, by all means go ahead.
Cook the shrimp just until they begin to float to the top. They do not take very long to cook. Once they float, remove them with a slotted spoon and toss them in a bowl of ice water to stop the cooking.
Add the shrimp to a food processor and pulse until they are coarsely chopped. Add in the green onion, worcestershire sauce, black  pepper, and cream cheese. Pulse this mixture until everything is incorporated. Remove and clean the blade from the cheese and shrimp mixture.
The next step is to make the rangoons. Take about one tablespoon of the mixture and add them to the middle of a wonton. Brush the edges of the wonton with water, then fold into a triangle, try to remove as much air from the triangle so that only the mixture is well formed, then gently press the edges to seal. Â Repeat.
Heat your oil in a pot small pot until it reach 375 degrees. Slowly add in the formed wontons, being careful not to bunch them up, an cook until they are a nice, golden brown. These do not take very long to fry. Remove with a slotted spoon onto a plate lined with paper towel.
Repeat until all of the shrimp rangoons are cooked, but remember to try a couple along the way.
This will be a nice surprise to your guests, and possibly a familiar surprise as well. The real treat is that when biting into them, they will be left with some very nice, and succulent shrimp. Hope you enjoy.