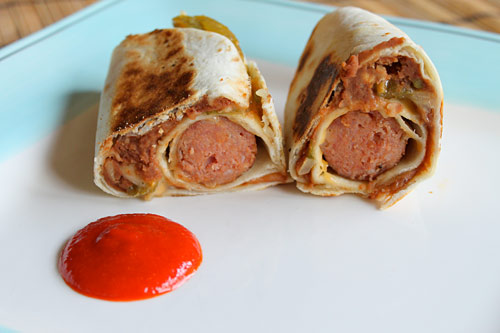 Maybe some of you have once heard about a Mexican hot dog, and might have questioned it, much like I did. I recall seeing a show on television and they were talking about Mexican hot dogs, somewhere in the southwest portion of the United States. What it ended up being, and don't get me wrong, it looked great, was a bacon wrapped hot dog, with tomatoes, onions, jalapeno peppers, and a cream sauce. Once again, it looked great, but I had a better idea, and something I thought would be a bit more authentic. I did not want to go with a bacon wrapped hot dog because I had already did this with my corn dog recipe, as well as simply wrapping the hot dogs in bacon and grilling them. Both amazing, but not what I was looking for in what I am calling the Mexican hot dog.
Let's get started.
(Serves 1)
2 flour tortillas, warmed, per serving
3 tbsp refried beans, cooked
2 roasted jalapeño peppers, seeds and stem removed, sliced
1 hot dog, make it your favorite one, cooked
1/2 cup of shredded Colby jack cheese
Sriracha sauce, optional
Begin by preparing all of your ingredients. To roast the peppers, I simply add them to a hot cast iron skillet, turning along the cooking process, until they are nice and blackened on all sides. Then, remove them, let them cool to the touch, and clean them.
Cook your hot dog any way you like. For this particular recipe, I like to steam them until fully cooked, then lightly sear them in the hot cast iron skillet, just for a little color.
To assemble the hot dog, warm the tortillas until they are nice and flexible. You can do this on a skillet, or in a microwave.
Remove one of the tortillas, spread the refried beans on the base of the tortilla, then top with about 3/4 of the cheese, then the sliced jalapeno peppers. Top with another warm tortilla, pushing down just a bit to melt some of the cheese, then top with the cooked hot dog and the remaining cheese.
You want your tortillas flexible at this point in time. If they are not warm and flexible, either add them back to a preheated skillet, covered, or in the microwave for about 15 seconds, until they are nice, soft, and flexible.
Roll the tortilla, until you have the seam side down. The refried beans and cheese will serve as a the glue, keeping everything in tact.
Slice it in half and serve with Sriracha sauce for additional heat.
This Mexican hot dog is creamy, has a nice snap from the hot dog, a bit of heat from the roasted jalapeños, and when taking a bite, just blends all of those flavors into one.  I hope you enjoy.