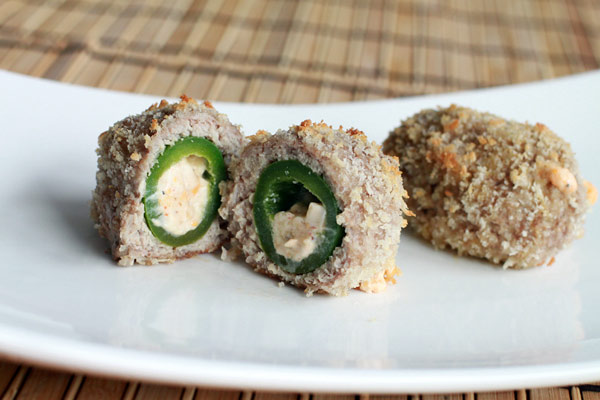 Game day was quickly approaching this past weekend, and as I always do, we try to not schedule anything during that time on Sunday, and we focus on food, laundry, and getting the kids ready the school week. My priority was food, and when we are watching our favorite team, we want that game time food. My boys pretty much like anything with a bone in nowadays, and so I was rocking out some chicken wings and ribs for them, and for me, I focused on a fundido, and armadillo eggs. Armadillo eggs? Yes. If you have never heard of these, think of jalapeno poppers taken to a whole new level. See, personally I had poppers on my mind, at least something to make with jalapeno peppers. As you can see, I love jalapeno peppers (here, here, and here).
See, these are poppers on steroids. Well, not really, but they are wrapped in delicious pork. These game time appetizers will get your family and friends talking. When they are fully cooked, and plated, the questions will pour out. There is some mystery behind these, and not only that, but a lot of great flavor.
Let's get started.
Ingredients: [Print this Recipe]
8 whole jalapeno peppers, seeds and stems removed
6 oz cream cheese, room temperature
1/2 cup of colby jack cheese, shredded
pinch of salt
pinch of pepper
2 chipotle peppers, seeds removed, chopped
1 tbsp chipotle adobo sauce
1/4 tsp granulated garlic
1 lb ground pork
1 egg, beaten (optional)
1 1/2 cups of panko bread crumbs
Cooking Spray
Start by getting all of your ingredients ready. To a small bowl, add the cream cheese, colby jack cheese, salt, pepper, chopped chipotle peppers, and the adobo sauce. Give this a really good mix to incorporate all of the flavors. Set this aside.
As you can see by the photo, I have this really cool jalapeno pepper corer. This corer came with a purchase I had made in the past, and really proves useful for seeding jalapeno peppers. So once you have the seeds removed, cut them in half as noted in the photo below.
Take the cream cheese mixture and stuff it inside of the jalapeno peppers. Repeat until the peppers are filled.
Add the beaten egg to one small bowl, and the panko breadcrumbs to another bowl.
Take the ground pork, enough to flatten in the palm of your hand, and enough that you think would lightly cover the jalapeno pepper. Using your hands, wrap the pork around the pepper, shaping into an egg shape, until it is fully covered. Repeat until all peppers are covered.
Add the pork egg to the egg wash, then over to the panko breadcrumbs.
Preheat your oven to 325 degrees. Spray your baking sheet with the cooking spray, or lightly coat with some oil. Add the coated armadillo eggs to the baking sheet and place in the preheated oven for about 35 minutes or until the breadcrumbs turn a very light golden brown.
When the are fully cooked, remove them from the oven and let them cool for about five minutes before plating.
Now you can eat these two ways. Once with your hands, or the other with fork and knife. Biting into them yields the wall of pork, then you are hit with the great texture of the pepper. A nice heat level to them is quickly balanced by the smoky cream cheese. Something new for your to try in 2012. You could also deep fry these until a darker golden brown, but regardless of how you do it, you do get a nice crunch from the panko breadcrumbs.
Hope you enjoy!