Homemade Pretzel Bites with Cheddar Cheese Beer Sauce
If there is one thing that my children and I agree on for a late night snack, it has got to be the soft pretzel. This snack was something I grew up with and it is something enjoyable to reflect on those childhood memories when I would ask my parents if I could have a soft pretzel, making them right in the oven. To me, the soft pretzel might be my favorite snack. It is warm, salty, and can be topped with delicious squeeze cheese and mustard. Yes, squeeze cheese. I admit that I love squeeze cheese, but only on a soft pretzel, nothing else.
It has been awhile since I last made soft pretzels, and I thought I would entertain my kids with the thought of fresh, homemade soft pretzels, not only that, but to create a beer and cheddar cheese sauce that my wife and I love.
Let's get started.
Ingredients: [Print this Recipe]
1 1/2 cups warm water
1 tbsp sugar
2 tsp salt
1 package of active dry yeast
4 1/2 cups all purpose flour
4 tbsp unsalted butter, melted
2 tbsp vegetable oil
Cooking Spray
12 cups water
2/3 cups baking soda
1 egg, beaten
Kosher salt
Begin by adding 1 1/2 cups of the water to a mixing bowl. If you have a KitchenAid mixing bowl, use that. Add in the sugar, salt, and package of yeast. Gently stir, and walk away from it for about 5-10 minutes, or until the yeast foams.
Once the mixture has foamed, add in the flour and melted butter. Use your dough hook attachment, and begin mixing on medium speed for about four minutes. Your dough should be smooth and begin coming off of the sides of the bowl.  Remove the dough from the mixer and add it to another bowl. Drizzle the vegetable oil on top of the dough, and toss it to the other side, making sure the exterior is oiled. Cover the bowl with plastic wrap and place in a warm spot for about two hours.
The goal is to have the dough rise, about twice the size of which you placed it in the bowl.
Once the dough has risen, uncover, and give a good smell. I love the smell of fresh dough. Nothing beats that wonderful yeast smell. Well, bacon probably beats that, but still, it is a great smell.
For the next few steps you will want to have everything prepared as things go pretty quickly.
To a large baking sheet, spray the cooking spray on it. Preheat your oven to 450 degrees. Beat the egg in a small bowl. Add the salt to a small bowl.
In a roasting pan, if you have one, add the water and the baking soda, and bring it to a boil. If you do not have a roasting pan, use a  deep skillet or another vessel that can hold that water to a boil.
OK, back to the dough. Take the dough and divide it into about 8-10 balls. The dough will be a bit sticky, so use a bit more vegetable oil to lightly coat your hands.
Take each ball and begin to roll it into a rope like shape. Once you begin to get the rope, grab both ends and swing it a bit. Your goal here is to get the rope to be about 7 inches long, or so.
Lay the rope down, and cut about 2 inch pieces. Add these pieces to the boiling water. Let these cook in the water for 20-30 seconds. What happens here is that the dough begins to soften, par cook, and enlarge a bit. Remove with a slotted spoon, trying to remove as much water as possible, and add the cooked dough to the oiled baking sheet.
Brush the egg wash onto the top of each pretzel bite, then sprinkle each one with kosher salt.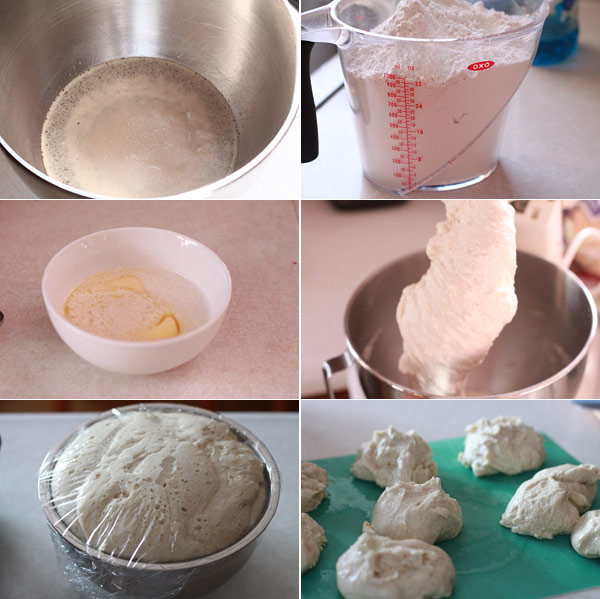 Repeat this process for the remaining dough balls.
Once the baking sheet is filled with some pretzel bites, add them to the preheated oven and cook for about 15 minutes. They should come out golden brown. The smell is amazing. Take it in. Remove them from the baking sheet and place on a wired rack to cool.
Repeat this process until all of the pretzel bites have cooked.
As the pretzels cook, make the cheddar cheese beer sauce.
Ingredients:
12 ounces of light beer
1 1/2 cups of shredded cheddar cheese
2 tbsp all-purpose flour
pinch of salt
pinch of cracked black pepper
Add the beer to a sauce pan. Bring it to a boil. Toss the flour with the cheese. Once the beer is boiling, add the cheese and flour mixture, dial down the heat, and stir constantly. Toss in some salt and pepper. Stir, and add to a serving bowl.
When you are ready to plate, add the pretzel bites to a plate with a small bowl of the beer sauce, and dig in.
The flavor of these pretzels are just phenomenal to say the least. Packed with this yeasty smell and flavor, every bite is nicely salted, and that beer and cheese sauce, well, I will let you judge. A perfect snack any time of the day, and better yet, a great game day appetizer that will get all of your friends and family dipping everything into that beer and cheddar cheese sauce! Enjoy.