Come every spring, I ask my kids what they want to plant in the garden. Two of my kids are pretty pumped with ideas, where one simply is not. That's perfectly fine in my book. Regardless, my wife defaults to tomatoes and cucumbers, while the kids default to green bell peppers and green beans. I take the liberty of choosing either things, and in this case I decided upon watermelon, hot peppers, sage, rosemary, strawberries, and red onions. We have been picking a ton of tomatoes, green beans, strawberries, and fresh herbs, and as of last week we picked our first green bell pepper.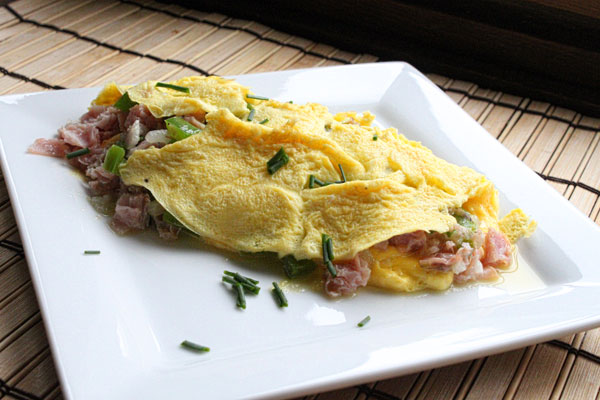 I had this darn green bell pepper on my cutting board for a few days, and every time I looked at it, I thought what was I going to use it in. It was only one green pepper, and as I thought of stuffing it, or making a chop suey, I always think of dicing it up and turning it into a Denver omellete.
I love a Denver omellete, and in fact, it could be one of my favorite omelletes. It's simple, delicious, and very fulfilling.
Let's get started.
Ingredients:
3 whole eggs, beaten
2 tbsp water
1 pinch of salt
1 pinch of cracked black pepper
1/2 cup of chopped deli ham
1/2 cup green bell pepper, diced
1 shallot, diced
1 1/2 tbsp unsalted butter
Start by adding the water, or cream if you want to the beaten eggs, and mix well.
Heat a skillet on medium, to low heat. Add in the 1 tablespoon of the butter and let that melt.
Toss in the ham, bell pepper, and shallots. Stir, and cook for about 5 minutes or until the peppers are slightly softened, yet still firm.
Remove from the skillet and place the mixture in a bowl.
Return the skillet back to the stove, and on medium heat, melt the remaining butter.
Add in the beaten eggs, and give that a gentle stir.
Using a spatula, or in my case a worn down rice paddle, begin lifting up the edges while maneuvering your skillet to let any wet egg mixture to to the edges. Continue this until the eggs are almost set.
Add in the bell pepper mixture into the center of the eggs, and gently fold over the eggs. Cook for another minute or so, or until how you like your eggs, and then slide onto your plate, and serve.
The result is everything you want in a great omellete. Tender and soft eggs, with the great salty and smokiness from the ham, and then the great, and fresh green bell pepper. Â Hope you enjoy! What is your favorite type of omellete?