I am a fan of leftovers, and only a fan because leftovers present a challenge. That challenge is finding a way to tweak whatever it was into something new. This is where this recipe came into play. I know… Leftover chicken is probably not that big of a challenge. Don't judge me. But as I had some awesome leftover garlic style chicken leftover from making pita wraps the other night (huge hit), I have been craving buffalo style chicken wings, and nachos. Again, no need to judge me. As I normally do, I scavenge through the pantry, refrigerator, and freezer looking for items I can use to make something. The first thing I noticed was not just the chicken, but the leftover blue cheese from making that blue cheese compound butter, and then my eyes immediatlely took to the hot wing sauce (a match made in heaven if I do say so myself). As I immediately thought nachos, I was bummed to say the least as not only did we not have any tortillas, or tortilla chips. The freezer, however, did yield some frozen curly fries. I thought what the heck… Let's win this battle and come up with some buffalo chicken fries!
Let's get started.
Ingredients:
2 cups of frozen curly fries
1/2 cup of shredded cheddar cheese
1/2 cup of blue cheese, crumbled
1/4 cup your favorite buffalo sauce
1 tbsp chopped chives, or thinly sliced garlic scape
1 cup cooked chicken, cubed
Preheat your oven according to the directions on your bag of delicious curly fries. Cook, just until about done.
A few minutes before your desired crispiness, remove the fries from the oven.
Shower the fries with the shredded cheddar cheese. This acts as the glue to to hold the fries together.
Next, arrange the cooked chicken cubes, then shower with the blue cheese.
Place back into the oven, and cook until the cheese is nice and melted.
Once melted, remove the fries from the oven and drizzle with the buffalo sauce. Then shower with the chives or garlic scapes, and dig in.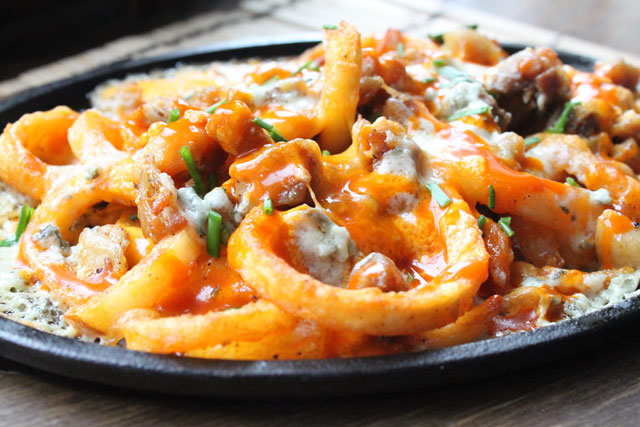 If you love buffalo style chicken wings, you are going to love these buffalo chicken fries. The combination of blue cheese, chicken, and buffalo sauce are just a great combination. A slight heat from the sauce, and just a great balance of saltiness from the sauce just makes this an addicting appetizer, or heck even a meal in itself. Hope you enjoy!