For whatever reason, I recently stopped drinking hot coffee. I guess my morning routine is not allowing me too. When I wake up, I immediately head to the gym to workout for about 30 minutes, or so, then head back home and quickly get ready for work. I guess the last thing I want to immediately pump into my system is coffee. Granted I do make a loaded fruit smoothie before heading to work, only to pump good nutrients into my system right off the bat. But I have been missing coffee, so I had to take matters into my own hands, and that's when I started making batches of iced coffee. My colleague has been bringing in Starbucks every morning, and I'm always jealous because his iced coffee looks so good, hence what inspired me to start making my own. Â It takes a long time for my body to cool down after the workout, so having a cold, refreshing iced coffee is exactly what my body has been needing on my morning commute.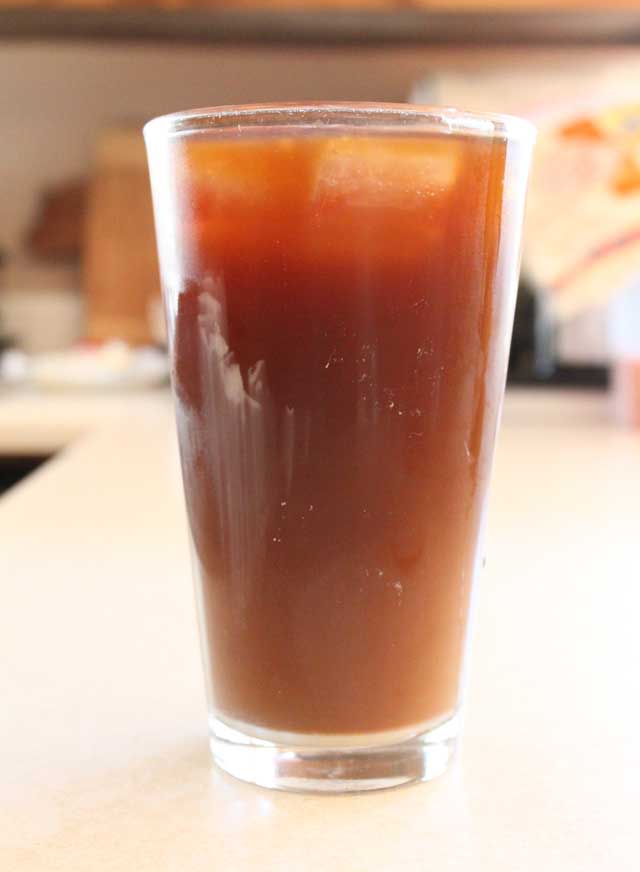 This stuff is so easy to make, and it packs a great punch of caffeine, and is perfect during your morning commute, of afternoon fix. This always reminds me of Vietnamese iced coffee, one that I truly love as well.
Let's get started.
2 cups of your favorite coffee beans, grinded
water
ice cubes
sweetened condensed milk, to your desired sweetness
cheesecloth
Start by adding the coffee beans to a non-reactive jar. Fill with water, enough to cover, roughly 4 cups or so. Give this a good stir, then cover and let the water marinate in the coffee grinds for 24 hours.
Next, is to filter the coffee grinds. I use a cheesecloth for this purpose as it prevents any of the fine grinds from getting into the coffee.
Remove the lid, and take a sheet of the cheesecloth and cover the top of the container. Put a rubber band over the top if it helps you secure the cheesecloth. Pour into another container, letting all of the coffee drain. This can take a minute or two. Now you are left with this super dark, and rich coffee. Cover and place into the refrigerator until you are ready to serve.
When you are ready to serve, take about 3/4 cup and add it to a pint glass. Add about a tablespoon of the sweetened condensed milk, and stir. I like mine to be slightly tan in color. Add in iced cubes, and pour in cold water, just until about the top. Give another stir, and start gulping.
I would say that I have yet to have a cup of hot coffee in at least three weeks now, and have been batching out this cold brew instead. It's not only refreshing, but it gives you that gentle boost to kick start  your day. Hope you enjoy!