Let me start by saying if I could eat Vietnamese pho for breakfast every day, I would. I've been making a big batch of pho about every month, or every other month now for some time. To me, making the pho is a day long, if not longer process to get a well infused pho stock. Everything from charring the onions and ginger, to skimming the muck from cooking all of the beef and pork bones, it is just something I love, and the aromatics are to die for. So with my most recent batch, and I made a big one at that thinking all of my kids would devour it (they didn't), I was left with a bunch of beef, and stock left over. I was 'pho'd' out at that point in time, but I knew I needed to use up that beef and not let it go to waste. That's when it occurred to me to bring the two things I loved eating and making it a pho style banh mi. Man was this ever great.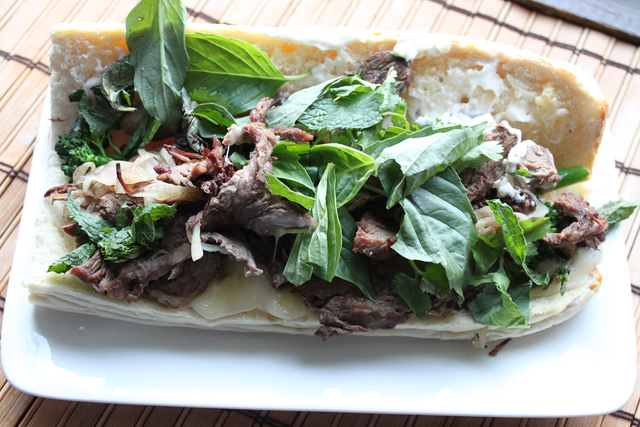 Let's get started.
First, make a batch of pho, enjoy it, then with remaining leftovers make this sandwich.
2 cups of thinly sliced flank steak, dipped in hot broth until cooked to your liking.
Vietnamese beef meatballs, cooked, sliced thinly
Fresh basil, to you liking
Fresh mint, to your liking
2 slices of provolone cheese
1 French baguette
light spread of mayonnaise
Sriracha, optional
Squeeze of lime juice
Thinly sliced serrano chili or jalapeno, optional
Small cup of pho stock, heated, optional
Take your French baguette and slice it lengthwise, but not all of the way through.
Lay down the provolone cheese on the bottom half, spread on the mayonnaise on the top half, and drizzle with Sriracha if you are using it. Lay down the thinly sliced chilies, the top with the cooked flank and meatballs. Top with Fresh mint and basil, then squeeze a bit of lime juice over the top.
Fold the sandwich, give it a good press, and dig in. This thing is everything you love about pho and a great banh mi, all in one bite. Did I mention dipping it into the pho broth? Holy moly, you talk about a homerun, this is it. So the next time you are making a batch of pho, think about leftovers, and making this excellent sandwich! Hope you enjoy!