Sopa de Ajo (Bread Soup with Garlic)
Lately I told you that I was making a lot of homemade bread lately.  It was a process that kept me occupied while I fought my time with cancer. I was probably making it so much that my kids were getting slightly bored with the fact that there would be a fresh loaf of bread waiting for them when they got home. Sure, everyone would tear off, or cut off a piece of the bread, swipe it in some softened butter and move along their way, but there were a few times where I was left with too much bread. That's when the lightbulb went off in my head to use the leftover bread and make a Spanish style soup called sopa de ajo. This is not only a great and tasty soup loaded with flavor, but it is a great use of day old bread!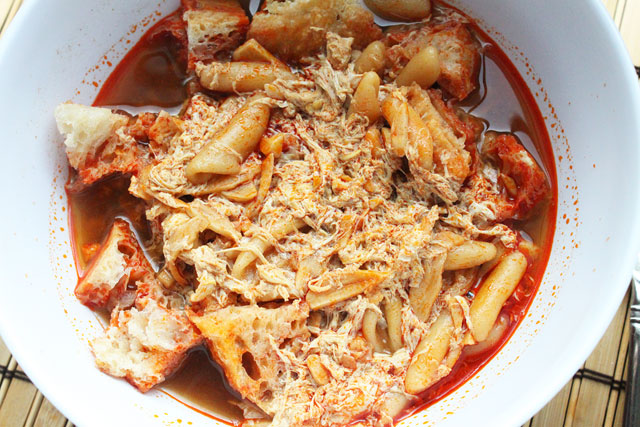 I'll admit that it is not the prettiest of soups but the flavor and simplicity make up for it.
Let's get started.
Ingredients:
1/4Â cup olive oil
1 tbsp smoked paprika
1 head of garlic, skin removed, thinly sliced
1/2 loaf of day old French or country bread, torn into 1 inch pieces, lightly toasted
4 cups of chicken stock
1/2 cup of pinot grigio or some version of dry white wine
2 whole eggs, beaten
salt, to taste
cracked black pepper to taste
What is not to love about this, right?
Start by heating up your soup pot on medium heat. Add in the oil, then add in the garlic, cooking for a couple of minutes. After a couple of minutes, add in the Spanish paprika and give it a good stir. Add in the bread and give another good stir. Keep stirring the bread until it begins to get a little bit of crust on the bread. The day old bread should already be a bit hard but trying to get a little color on it works.
After a few minutes, of cooking that bread, add in the wine, and give that a good stir. Cook for a few minutes to get rid of some of that alcohol, then add in the stock.
Bring the stock to a boil, then drizzle in the beaten eggs, stirring along the way. Cook for a few more minutes, then season with about 1 teaspoon of salt, and a few cracks of black pepper. Taste and season with more salt and pepper should you desire.
Ladle into a soup bowl, and dig in. This sopa de ajo is so comforting. Yes, it's way too simple, but it is super hearty and a great use of that leftover bread. If you are looking for a great and easy soup, and one that is perfect during these rainy and cold fall days then give this one a shot. Hope you enjoy!