Chocolate Chip Cookie Dough Party Dip
It was not too long ago where our families got together for an early summertime barbecue, or cookout if you will. I tend not to be a snob when it comes to the terms barbecue and grill out (or cookout), but when I hear a barbecue I think of meat smoked low and slow, then served while grilling is typically done over charcoal or wood, or for those that use gas, cooking at a faster pace. Regardless, any get together is always a fun time in our book, and we always like to bring something to the get together. When I ask the question to my wife if we can bring anything to the party, when I hear the word 'Dessert' I often panic in a sense. Don't get me wrong, I don't freak out or anything, but dessert is typically not my cup of tea and I typically only make dessert for my wife and kids. I am more into the savory, not the sweet.
So when I heard a dessert, I immediately thought of taking this one on myself and making something very simple, sweet, and something I knew adults and children would love. That's when I came up with the Chocolate Chip Cookie Dough Party Dip.
Let's get started.
Ingredients:
8 oz package of cream cheese, softened at room temperature
1/2 cup unsalted butter, room temperature
1/4 cup light brown sugar
1 cup powdered sugar
1 1/2 tsp vanilla extract
1 cup mini chocolate chips
1 cup salted caramel (or caramel chips)
1/2 tsp salt
Graham crackers or sliced apples
Again, this dip is way too easy to make and everyone crushed it. I think there was about 1/2 tablespoon left when we gathered the kids to leave the party. Yes, it's that good, and a bit addicting.
Start by adding the cream cheese, butter, sugars, salt, and vanilla extract to a mixing bowl. Turn on your mixer and mix until all of the ingredients are well combined.
Next add in both of your chocolate and caramel chips. Mix again to make sure all of the chips are combined.
Now get your silicone baking spatula out and get all of those goods scraped out and placed into your serving bowl.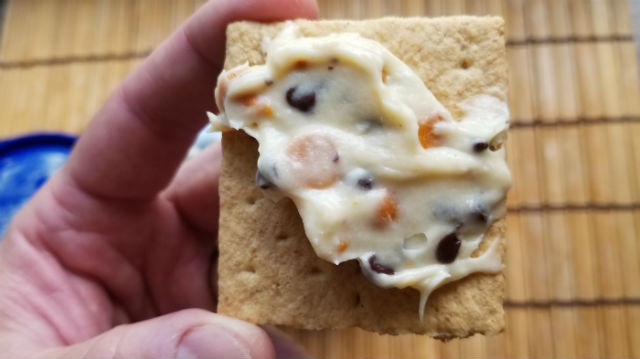 When you are ready to serve, place your serving bowl next to a plate lined with graham crackers and sliced apples. Spread onto either one and get to town. These are sweet, creamy, and have a great little texture from those mini chips.
This is a quicker winner of a dessert. Hope you enjoy!