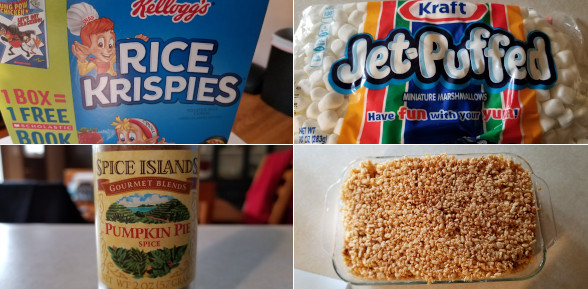 Pumpkin Spiced Rice Krispies Treats
I'm not sure if Kellog's came up with the idea of Rice Krispies treats before thinking of just coming up with the idea of pouring cereal into a bowl and simply add milk. Who knew that melting butter, adding more sugary goodness from marshmallows, and adding rice krispies would yield one of the most popular deserts for kids (and adults) since who knows when! According to the Internet they were invented in 1939, and I am so glad that they were. Now if you know me, or have followed Simple Comfort Food for any time, you will probably realize that I have never been a fan desserts, but lately that game plan has changed (and I think I am thankful that it has).
So as I often do when making desserts, I start by thinking of my kids (and wife) and visualize how happy they will be that a dessert is present in the house, and for whatever reason pumpkin spice popped into my head. I know it is the season of pumpkin spice, and to be honest I am not a fan of pumpkin spiced anything, but again I was thinking of my kids and realizing that they love pumpkin spiced anything, especially growing up (they still are) and when really young pumpkin muffins were their absolute favorite, so I knew they would love trying these.
Rice Krispies are so easy to make that however you spin them up they are sure to be a hit. For me, these are seasonal, full of that pumpkin spice, and were not for me. I will pursue other desserts, but my kids… they pan of pumpkin spiced rice krispies treats were devoured.
Let's get started.
Ingredients:
4 tbsp unsalted butter
10.5 oz bag of marshmallows
6 cups of Rice Krispies
1 tbsp pumpkin spice
1 13×9 pan sprayed with cooking spray
Way too simple.
Add a pot to the stove (or one large enough to hold all of the rice krispies), and begin melting the butter. Once the butter melts, add in the marshmallows and pumpkin spice. Reduce the heat to low melt all of the marshmallows. Once melted, add in the rice krispies and thoroughly combine.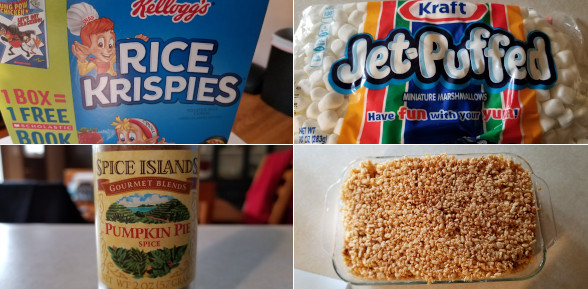 Spread evenly into the 13×9 dish. Let the marshmallows mellow and form, then slice into bars and enjoy!
Again, I am not too big of a fan for pumpkin spice, but as this was a seasonal dessert, and full of those warm fall spices, they were hard to resist. Simply put, they were delicious and my kids devoured them.
What's your take on pumpkin spice? Fan? If so, what is your favorite way to use it? Enjoy!