I often think before I submit what might the audience think of what I might be coming up with next. Another nut recipe? Another recipe that may be seasonal? Nope. This dude is full of surprises. I can go from sweet to savory to snacks to who knows. This is one of those mix ups. Korean. Now I do not dabble that much in Korean cuisine as much as I should or want to but there are a few Korean dishes that get my attention, but Japchae is one that does.
If you have never had japchae, well now is your opportunity. Japchae is a mixed noodle dish that is both sweet and savory and reminds me a lot like the beloved dish of the Philippines, pancit bihon. It is a noodle dish that contains both al dente vegetables along with a protein, commonly beef. In my case, I kept it local and added some awesome smokiness to it by using Nueske's smoked duck breast. It was a most excellent choice on my part.
This dish uses sweet potato noodles that you can find at your local Asian grocery and trust me you will want to try and find these. The texture is awesome and one that is a bit slippery and a bit bouncy. Super cool to say the least.
Let's get started.
Ingredients:
11 oz package Sweet Potato Vermicelli noodles
10 oz baby spinach, washed
2 cloves garlic, minced
6 baby portabella mushrooms, cleaned, stems removed, sliced
1 carrot, julienned
2 eggs, beaten
1/4 red bell pepper, sliced
11 oz Nueske's Smoked Duck Breast, thinly sliced
2 tbsp sesame seeds
4 tsp canola oil
1/2 cup soy sauce
1/4 cup dark sesame oil
1/4 cup sugar plus a tablespoon
1/2 tbsp black pepper
Start by heating a large pot of water. This will serve to cook your spinach as well as your noodles.
While the water comes to boil, prepare your ingredients and have everything on standby.
Once the water comes to a boil, add in the spinach and cook for about 30 seconds. Remove with a large slotted spoon and place into a bowl of very cold water. Blanching if you will. The spinach will be cooked and still retain a nice green color. Strain the spinach. Once strained, push down on the spinach or give it a few good squeezes and remove as much of the water from it as humanely possible.
You can turn off the heat on the water but keep it on the stove as you will cook those noodles in a few minutes.
Next, heat a large skillet on medium heat. Add one teaspoon of oil and give it a nice swirl.
Once heated, pour in the beaten eggs and give the pan a good swirl. The goal is to get a nice and thin egg cooking. After a few minutes, and once the egg has set, flip it over and cook for about 30 seconds on the second side, making sure it is fully cooked. Slide that onto a cutting board and return the skillet to the stove. Slice the egg in half, then another half so that you have four quarters. Slice into strips.
Add another teaspoon of oil to the skillet and let it come to temperature, swirling it as well.
Add in the carrots, and cook just until slightly tender. Remove and slide the carrots onto the cutting board, or onto a plate.
Now add the noodles to the pot of hot water, then bring that up to a boil. Cook the noodles at a low boil for about 8 minutes.
Add the mushrooms to the skillet, and cook in whatever remaining oil might be int the skillet. Stir the mushrooms to that they begin to release some moisture. Cook for about 7 minutes or so until they are cooked and nicely seared. Slide those onto the plate or cutting board.
Wipe out the skillet, then return back to the stove on medium heat. Add in another teaspoon of oil. Add in the bell pepper and garlic and cook for about 3-4 minutes. You still want a nice crunch to the peppers, much like the carrots.
Remove the mushrooms onto the plate or cutting board. Return the skillet to medium heat, add the remaining oil, and then add in the sliced duck breast. Cook the breast until the fat renders and the the breast gets slightly crisp. Yep, slightly crisp.
Remove the duck and place with the other cooked items.
To a small pot, add the soy sauce, sesame oil, sugar, and black pepper. Bring this to a boil, stirring along the way. Once it comes to a boil, reduce the heat to medium and cook for another 3-4 minutes.
Strain the noodles and add them to a large mixing bowl. Pour in about half of the sauce. The noodles will soak up most of it, as will the the remaining ingredients. Give that a good mix.
Using your hands, add in all of the ingredients, and mix well. Mix from the bottom. If it needs a bit more sauce, add a bit more. Give it a taste.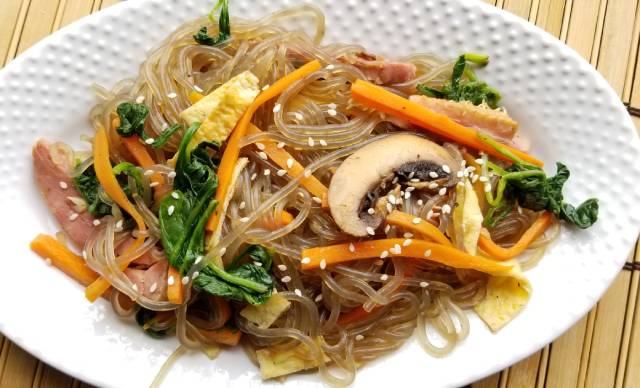 .
The taste should be sweet, savory, and really delicious. Get some of the duck with it. The smokey, almost bacon like flavor brings this to a whole other level. Feel free to season with salt if you need a bump.
Now it is time to serve. When plating, feel free to sprinkle the plates with sesame seeds before serving.
You will love these noodles. The texture is super fun and the flavor is even better. If you are not using Nueske's duck, don't worry. Go with a thinly sliced beef or chicken, or heck just go with veggies. However you mix it I think you will be hunting down those noodles in the future. Hope you enjoy!