Blistered Shishito Peppers
I've always been a fan of roasted peppers. There's something about eating peppers raw (which I love by the way, especially Thai bird chilies), and eating them roasted. One of my favorite roasted peppers is chiles toreados. Chiles toreados is a roasted whole jalapeno pepper that is lightly oiled and salted, and when bitten into, it just screams delicious spiciness. It is often a gamble when you get the heat, but it is always present. The great thing about these roasted chilies is they may be a bit mild, medium, or pack a heck of a punch. Roasted shishito peppers are basically the same, however 95% of the time you are going to remain on the mild side, which make these even more appealing and are perfect to snack on, especially that they only take a matter of minutes to go from skillet to plate.
Ingredients:
10 whole shishito peppers
1 tbsp oil
1 tsp koshers salt, to taste
lemon, optional
We planted a few bushes in our garden this year, not knowing if we would be able to yield a harvest this year, and boy were we wrong. These shishito peppers bloomed and produced nearly 100 peppers if not more, and we are still pulling them off as needed and cooking them when a quick snack or side of peppers is needed, and that seems like a few times a week. These are great, trust me.
There are a couple of things to point out. Rinse and dry your peppers. The stems can remain intact. Once dry, add them to a mixing bowl, drizzle in the oil, and using your hands… mix well.
I like to add the oil to the bowl instead of going oil into pan and then peppers. This will reduce smoking of the oil and just allow for a more gentle cook. Let's begin.
Start by heating a large skillet on medium-high heat, and let it stay on the burner for a few minutes, or until it starts to lightly smoke. Don't take the temp that high.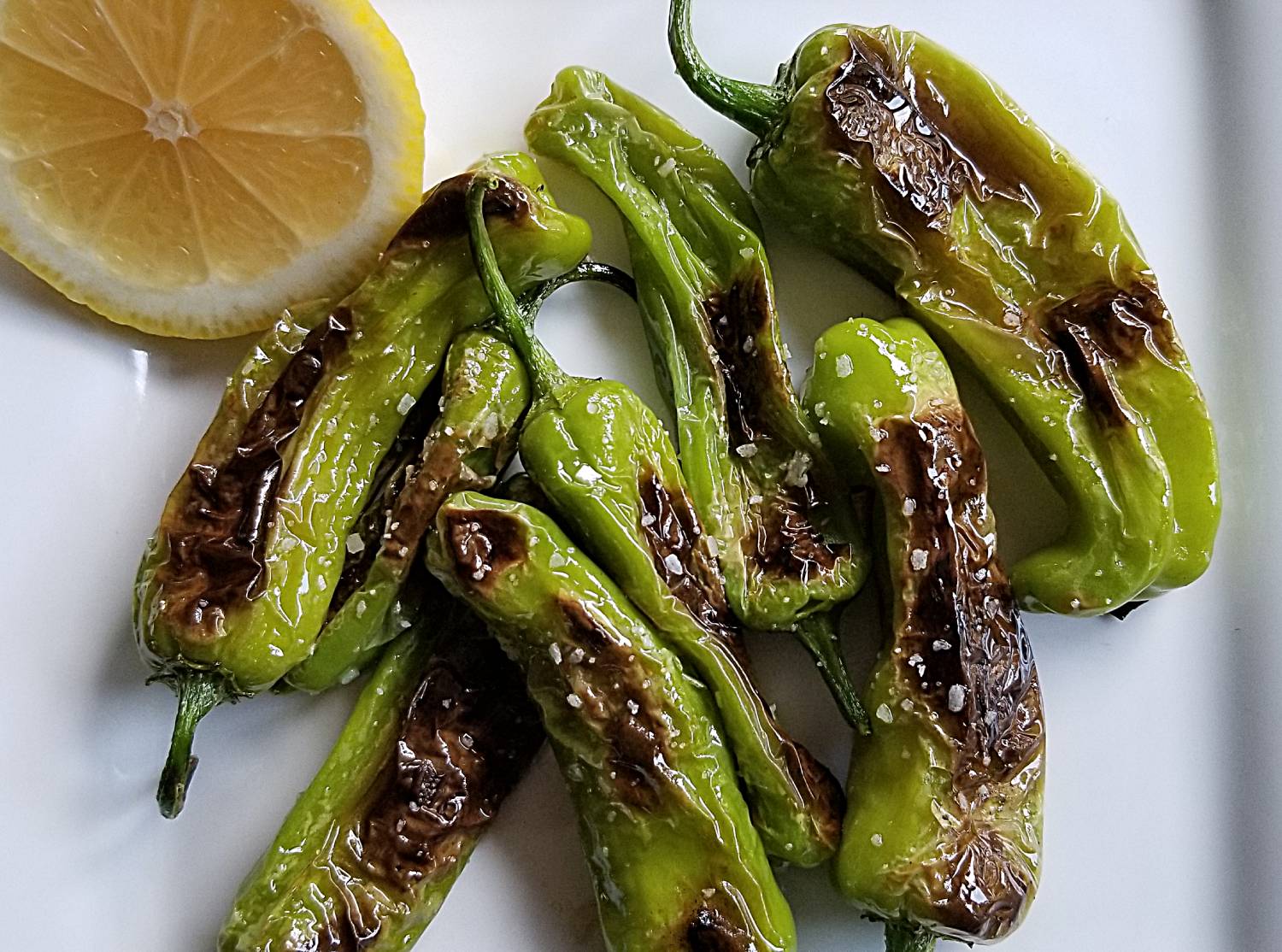 During this time, add the shishito peppers to a bowl, add in the oil and salt, and give it a good toss.
Add these to the hot skillet, and stir around. Let them sit and cook for a few minutes before beginning to turn them. You will notice that shishito peppers are oddly shaped hence why I like oiling them in the bowl. This allows that oil and salt to penetrate all of those knooks and crannies.
As they begin to blister, begin turning them, and reduce the heat to a medium. Turn a quarter turn about every minute. You will notice these shishito peppers will hiss and pop and crackle. I find that to be fun. This means you are on the right track. Keep turning for up to 10 minutes or so, controlling the heat if necessary. Once they are all blistered, you are ready to slide them onto your serving plate.
Serve with a lemon wedge if desired. That's all you need. Pick one up by the stem, insert pepper into your mouth, bite, and remove the stem. Repeat.
Scale the recipe accordingly based on taste. Just keep in mind that you only want to lightly coat all of the peppers before cooking them. Enjoy!