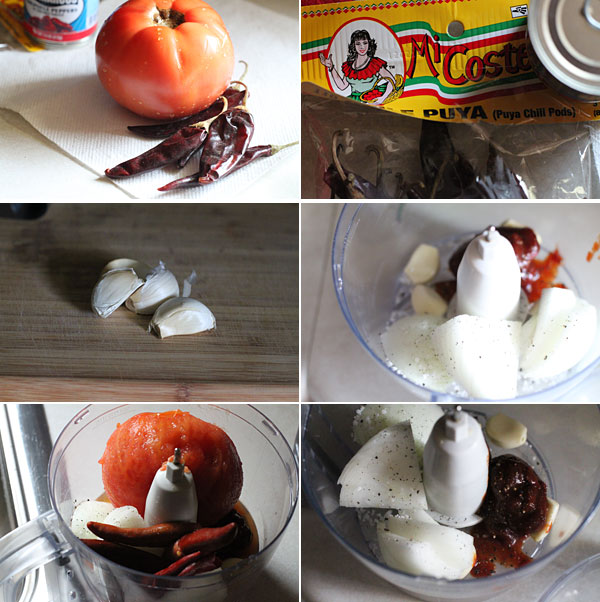 I don't know about you but we have tomatoes that are just growing off the charts right now. We planted a variety of tomatoes back in May, and now they are finally beginning to ripen. We have bowls of cherry tomatoes, as well as these great roma tomatoes sitting on our kitchen counter right now. In the meantime, I am pulling these great, large tomatoes off of the vine. With that said, I've been creating things such as loaded bacon lettuce and tomato sandwiches, simple pico de gallos, and recently came up with this Mexican red sauce. Â I'm calling this a sauce because it is so diverse that I have been marinating with it, topping omelettes with it, and well, pretty much using it on a majority of things, including drizzling it on pizza.
What turned me on to creating this sauce is some dried chilies I recently purchased, the Puya pepper. After reading Pok Pok, I was interested in the puya pepper as Chef Ricker was using them in his Thai cooking.
The puya chiles have an intense heat that is somewhat pungent and have a light fruity flavor profile with an almost berry flavor. Puya chiles are grown in Mexico, and are somewhat similar to the guajillos chilie. I thought they would be perfect in a sauce, and they were.
Let's get started.
Ingredients:
1 large tomato, such as Beefsteak or Better Boy
1 medium onion, quartered
4 puya chilies
1 chipotle pepper in adobo sauce
1 tsp salt
1 pinch of cracked black pepper
4 cloves garlic
1 cup water
additional water
Start by adding the puya chilies to a skillet, and cook on medium heat, flipping along the way for about 4 minutes. Remove the chilies, and let cool.  Once cooled, slice, and remove the stem and seeds.
During this time, bring a medium pot of water to a simmer. Add in the tomato and the chilies. Cover, and cook for about 15 minutes.
Remove the tomato and chilies with a slotted spoon, and let cool on a plate.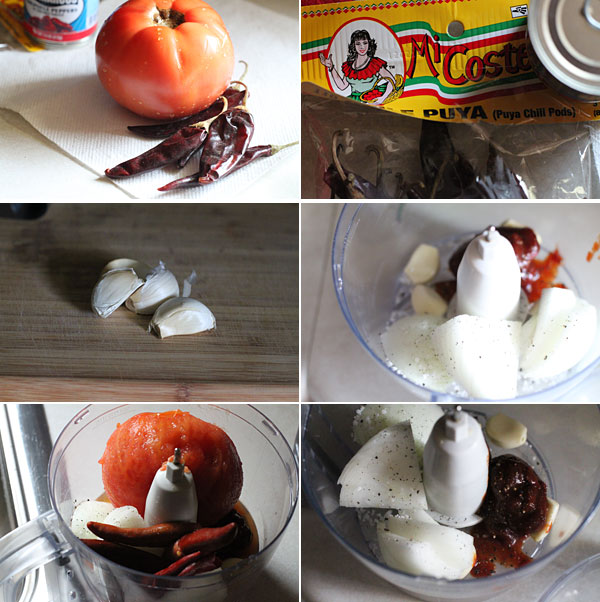 Add the chilies to a food processor, along with the remaining ingredients. Remove the skin from the tomato. The skin should easily come off.
Pulse until you have a smooth sauce. Â Taste and adjust any salt to your liking.
Pour into a large mason jar, and place in the refrigerator until you are ready to use.
This sauce had just the right amount of heat to it. A subtle punch of heat in the beginning, and then that fruitiness from the chilies, along with the garlic and onion. It's really good. If you are looking to try a new Mexican chili, give the puya a try. I'm certain you will love it. Enjoy!