So, you probably know by now that I love bacon. So does my kid, probably as much, if not more that I do. He is probably the reason I buy bacon, and probably one of the reasons I keep thinking of new ideas, or reasons to cook bacon. This past weekend was a weekend like most others. An early rise, and a bike ride to the farmers market. This time I stopped and chatted with a farmer who had some of his products from Simon's gardens. They are in the area and have local produce and other items. I buy stuff from time to time from the farmer, and last year he sold me on some pretty awesome purple potatoes that I used in a hash. But one thing caught my attention this week and it was the popcorn. It was a red popcorn called ruby red. I asked him about it, and decided to purchase the small container of popcorn for three dollars.
Besides bacon, my kids love popcorn, well, and so do I. Popcorn was actually one of the first posts I ever made on this site. So when I got home, I knew I was going to be making some appetizers for a party later that night, of which had bacon in them, and decided that I would pop the corn in some bacon drippings, and use some of the bacon. Heck, why not right?
Let's get started.
Ingredients:
Ruby Red Popcorn, or something fun from the farmer's market (any popcorn will do)
3 slices of good bacon, cooked and crumbled, plus bacon grease
3 tbsp unsalted butter, melted
salt, to taste
M&Ms, optional
Begin by getting a large pot on the stove, over medium heat.
Add in about three tablespoons of the bacon grease. Add a few of the popcorn seeds to the pot, and let them get nice and hot. Cover about half of the pot with its lid.
When the few seeds of popcorn has began to pop, add in enough popcorn to cover the base of the pot, about 1/2 to 1 cup of seeds.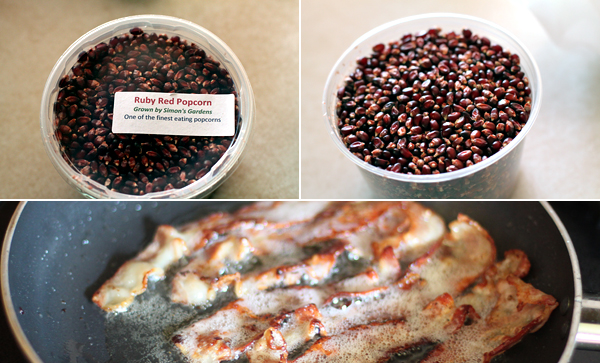 Shake the pot every 30 seconds or so moving the seeds in the oil. Place the cover on, and continue to move the pot on the burner, moving the seeds around. Once all of the seeds are hot and ready, they will begin to pop. Keep moving the pot, moving those seeds around to prevent any from burning. Once they begin to pop, they will go pretty fast. Continue cooking until all seeds have popped.
Remove the lid and dump the popcorn into your serving bowl.
Turn off the heat, and return the pot back to the burner. Add in the butter, and let it melt. Once melted, pour over the popcorn. Season with salt, and start mixing it in the bowl, making sure all of the popcorn gets some of that butter and salt.
Add the crumbled bacon and mix that in there as well. Toss in some M&Ms if you are feeling dangerous.
The end result is a popcorn that picks up a bit of the smokiness from the bacon, and when eating it, you are surprised with wonderful bacon pieces. Not only that, but his ruby red popcorn popped really well, was super tender, and did not have that kernel that tends to stick in your teeth after eating it. If you are using M&Ms, well, you get get an extra bonus of this smoky, salty, sweetness that is just out of this world.
So the next time you are making popcorn, try using a bit of bacon and its drippings. I bet you will be glad that you did! Hope you enjoy.