This past week I decided to stop in at El Rey and have some lunch. El Rey is one of my favorite places to get tacos in the city, and they have a great grocery store to boot. It's a win, win in my book, and as I typically pick up lunch, then I go shopping for things like limes, avocados, chipotles, other chiles, and a variety of other items before heading back to work. When I decided to go shopping, I saw two older women just going to town picking through poblano peppers. As I sat and watched, I decided I would bust out my 12 years of Spanish lessons and ask '¿qué estás haciendo con eso'. They looked at me, chuckled, and continued to dig through the heaping mound of chiles. I instantly thought, 'did I say that right?" or 'what the hell did I ask?'. Granted I can order food and take some punches along the way, but I thought I had asked them what were they going to make with those, only trying to gather ideas and make something along the lines as they were going to do. Regardless, I picked up a couple, brought them home, and decided to make a stuffed poblano pepper.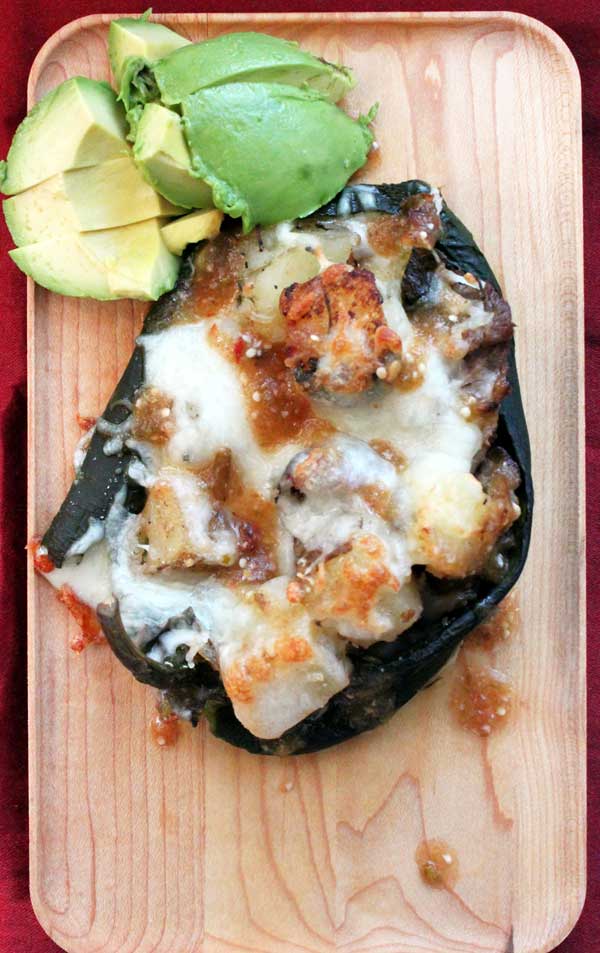 Whenever I see poblano peppers, I always, always think of chile rellenos. I don't know why, but that is what I associate the poblano chile with. I have attempted to make them in the past, and somewhat failed, however I've used the poblano chili to also make some salsa. So with the idea of making a chili relleno, I decided to take a similar approach, but skip the batter and deep frying process, and this is where this thing shined.
Let's get started.
Ingredients:
2 whole poblano peppers
1 cup of cooked beef
4 slices of provolone cheese
1 cup of mozzarella cheese
1 cup of cooked, cubed potatoes
1 tbsp canola oil
your favorite salsa, optional
1 whole avocado, sliced, optional
salt to taste
Start by preheating your oven to 425 degrees. Add the whole poblanos to a roasting sheet, and place into the oven, cooking until the peppers are nice and charred and the skin is totally blistered.
Once blistered, carefully place the peppers into a bowl, and cover with plastic wrap to let steam. This process allows the thicker skin of the peppers pull over super easy.
During this time, warm a skillet on medium heat. Add the oil and let it come up to temperature.
Next add in the potatoes, and get them nice and brown. This will only take about 8 minutes or so. Flip them during this course. When the potatoes are caramelized, add in the cooked beef. Please note, these were leftovers from the previous night, making hobo potatoes, and a grilled tri-tip steak on the grill. Cook for only a couple of minutes, then remove from the heat.
Take your poblano peppers, and carefully remove the outer skin. Discard the skin. Take your knife, and working from the stem area, make a slit, not going all of the way through, all the all down towards the tip. Carefully pry it open and discard any seeds.
Once you have a cleaned inside of your poblano chili, take a couple of slices of provolone cheese and add them into the pepper. Top with half of the potato and beef mixture, then top with half of the mozzarella cheese. Repeat with the remaining pepper.
Pop these into a 350 degree oven, just until the cheese is nice and bubbly. Remove, and serve.
The great thing about these, is that they were a perfect vehicle for stuffing leftovers into, but also that poblanos have this hidden sweetness and spiciness to them that I totally love. A couple of bites were a bit hot, but that is what I love about these things! Upon eating one, I did reflect back on the day when I asked the question to those ladies, and I was still curious what they were going to make with all of them. I suppose my guess would have been a chili relleno, or something along the lines of what I was making with them, a stuffed poblano pepper. Hope you enjoy!